DotWallet has been online for more than two years. From the mobile web version in 2018, to the PC-side web version in 2019, to the launch of the "DotWallet Pro" App, we have always been user-centric and moving on. After iterative optimization, convenience and safety have long been deeply rooted in the hearts of DotWallet users. Here we will introduce key functions of DotWallet Web version and App version separately which are as follows: registration/login/download, creating a wallet, backup of mnemonics, transfer and receive and more.
I.Registration/Login/Download
The DotWalllet Web Version and the App side support the same DotWallet account login. If you have already registered for the web version before, you don't have to register separately, just log in with the same account password. But please be noted that DotWallet web version and the App side are two independent wallets, and data is not interoperable.
In addition to supporting "phone number and email" registration and login, DotWallet also supports third-party login like WeChat, Facebook, Google. For your account security, please bind your phone number or email address as soon as possible after logging in.
1.Web version registration/login (Note: remember to bookmark the website)
(1) Enter the DotWallet official website: www.dotwallet.com, and select [Try Free] on the home page;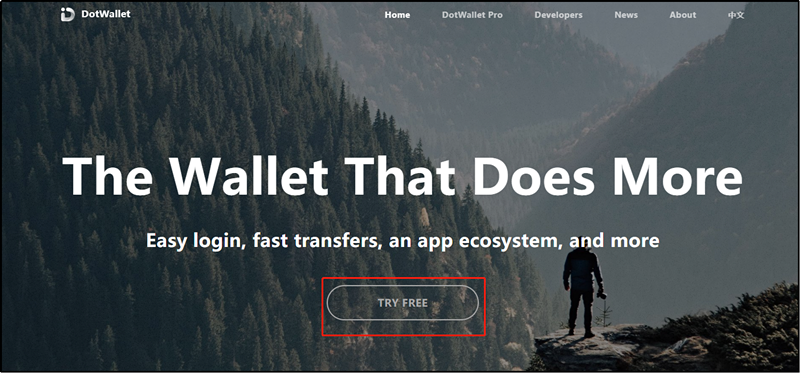 PC
Mobile
(2) Enter the web wallet address: www.ddpurse.com, and enter directly to the wallet homepage;
PC
Mobile
2.App version
(1) Download
Enter the official website of Dotwallet: www.dotwallet.com, enter [DotWallet Pro] at the top of the homepage, or drop down to select [Download];
DotWallet APP now supports downloads of "Google Play", "Android APK" and "Testflight" (IOS system).
PC
Mobile
(2) Registration/Login
Method 1: Use the DotWallet account registered through the web version to log in directly.
Method 2: Create a new DotWallet account. After registration, the account can be used to log in on the web version.
APP
II.Creating a wallet
1. Web
There is no need to create a separate sub-wallet for DotWallet web version. After registration and logging in, the three digital currencies "BTC", "BSV" and "ETH" are enabled by default.
2. APP
Users need to create sub-wallets manually in DotWallet web version. System will remind you to [Create a wallet] for the first login, you can also choose [Not now]. When you need to create a sub-wallet later, you can click [Add wallet] in the "Card" area at the top of the page .
APP
III. Backup Mnemonics
The BSV wallet supports backup mnemonics, while the BTC and ETH wallets are generated powered by BSV tokenized techniques, which has the core advantages of instant payment, lower handling fees, and 100% chain auditability (Check details);
The mnemonics of the DotWallet can be restored in the BSV wallet that supports BIP44. The key derivation path is: m/44'/0'/0'. Currently, the function of importing mnemonics is under development.
1. Web
(1) PC side: [Security Center]-[Mnemonic backup ]
PC
(2) Mobile side: [Settings]-[Mnemonic backup]
Mobile
2.Appversion
The mnemonic on DotWallet app will be stored on the local device. DotWallet does not store your mnemonic, nor can it recover or retrieve your mnemonic. Your mnemonic is the ONLY WAY to restore assets.
At the same time, this function can also ensure that even if your DotWallet account is stolen and logged in on other devices, no one can obtain the private keys and digital assets in the original wallet that ensures the safety of users' funds;
Therefore, please back up and keep your mnemonic words! Meanwhile. Please think twice before deleting the wallet you created, it cannot be restored after deletion! !
Method 1: After the BSV wallet is created, you will be prompted to back up the mnemonic;
APP
Method 2: Click the [BSV Wallet] card at the top of the homepage, flip it over and pull it down, and select the [not backed up] button;
APP
III. Transfer and Receive
1. Transfer method:
(1) "Transfer to address": scan the "Receiving QR code/paste address" to transfer;
(2) "Phone number/email transfer": You can easily transfer assets by entering another person's DotWallet account (phone number/email);
(3) "Red packets": Input amount in red packets, the function supports multi-person transfers.
2. Receive method:
DotWallet supports [Receive via address ] and [QR Code Receive]
(1) BSV: support 0 confirmation and timely arrival of accounts in both the transfer system and transfers apart from the system;
(2) BTC and ETH: Powered by BSV and Tokenized technique, BTC and ETH transfers within DotWallet system also support instant deposit at a low cost. When transferring outside the system, BTC transfers require 3 confirmations before being credited, ETH requires 12 confirmations before being credited;
Note: Please check the corresponding currency. Do not transfer to other assets, otherwise it will not be retrieved.
For more specific function details, please check in DotWallet and App [Help Center]!
Customer Service
(WeChat ID:dot_wallet)
(Telegram:@DotWallet2020)