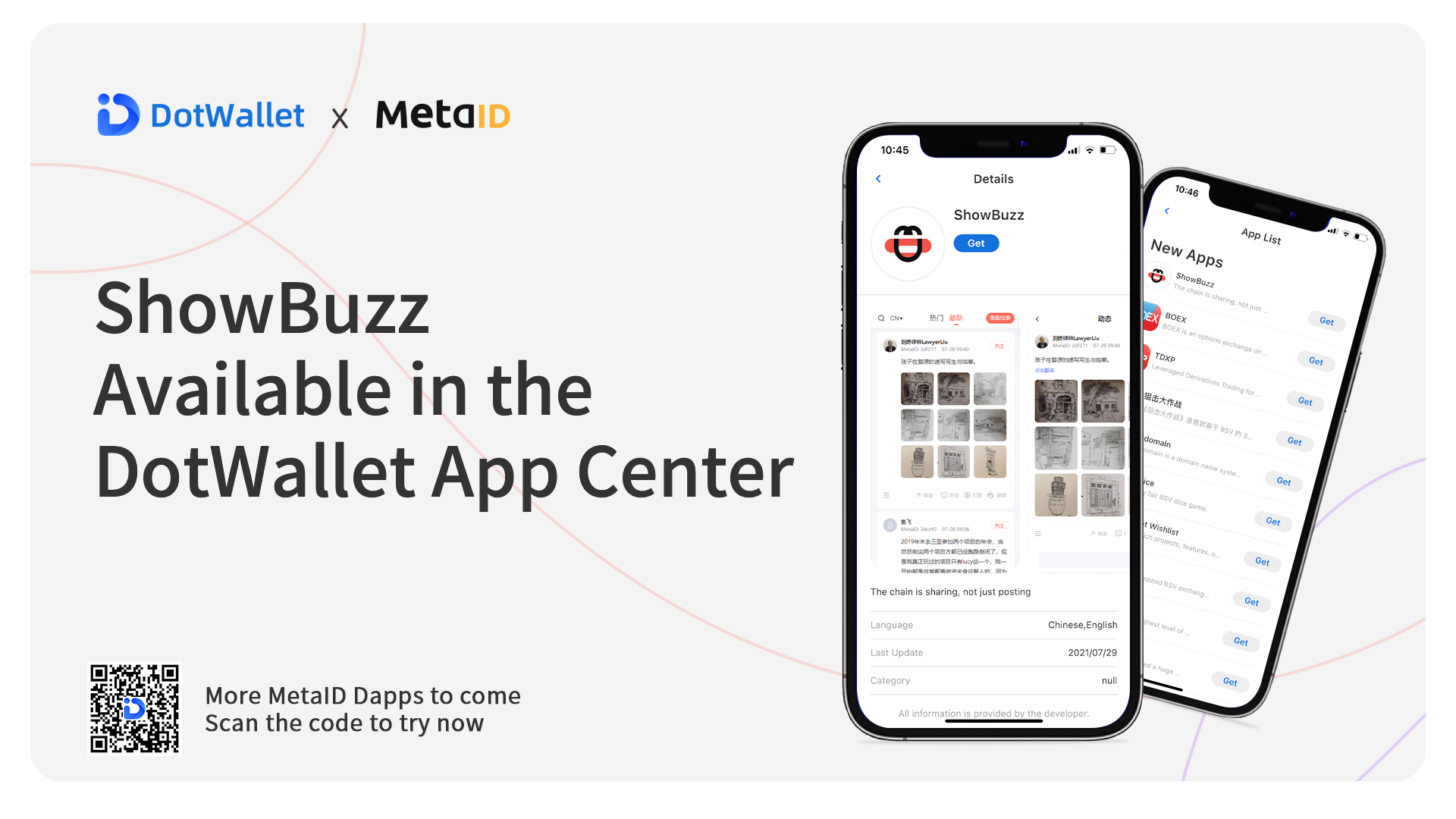 ShowBuzz, a dapp that uses the MetaID protocol, has been officially launched in the DotWallet app center. This is the first of a series of dapps including Showtalk, MetaNote, and MetaPhotos that will soon be available in the DotWallet app center. These apps, with their diverse on-chain interactions will bring great convenience to users and further enrich DotWallet's app ecosystem.
ShowBuzz is connected to the DotWallet for Developers platform and is available in the app center. It supports one-click login and payments with your DotWallet account:
One-click login: sign up in just one-click login with your DotWallet account.
DotWallet Payment: after you authorize DotWallet account to log in, all payments from the app will be settled via DotWallet.
PS:The MetaID protocol is an open source decentralized ID sub-protocol of Metanet. It was proposed by the ShowPay and MetaSV teams, and aims to enable its users to be the first to enjoy the next generation of the internet.
Developers can build applications powered by a diversity of solutions
The DotWallet for Developers platform and the DotWallet app center have fully supported applications that use the MetaID protocol. For all large, medium, and small enterprise users and developers, by connecting with the DotWallet for Developers platform and the DotWallet app ecosystem, they can get more on-chain interactions and diverse solutions for BSV applications. At the moment, developers using MetaID protocol can enjoy features including but not limited to the following on the DotWallet for Developers platform:
Quicklogin: log in to the third-party applications with your DotWallet account, lowering the barrier for registration.

DotWalletpayments: convenient payments via DotWallet. Both ordinary payments and automatic payments are available.

Information acquisition: query the basic information of the user, such as the nickname, profile picture, payment address, etc.

Data on chain: developers can quickly uploadthe application data to the chain through

For more interface information, please refer to the API documenton the DotWallet for Developers platform:

https://developers.dotwallet.cn/en/documents/zh/#45fa4e00db
About ShowBuzz
ShowBuzz: an on chain microblog community. BSV is required to post, comment and click like. Each post is instantly saved to the blockchain. Besides, you can also earn BSV through received likes, comments and tips. Powered by the MetaID protocol, ShowBuzz can also share data with other MetaID dapps. For example, articles or notes posted publicly on MetaNote can be displayed immediately on ShowBuzz.
Powered by the DotWallet for Developers platform, all the applications in the app center can be accessed with one click quicker login. There is no need for downloading or installing. With these attributes, the DotWallet app center effectively empowers the applications on chain to further ensure service efficiency, and makes great contribution to the BSV application ecosystem. In the future, we hope more applications will join our app center, and work with us to build a better BSV ecosystem!
The First Round Prizes
Try ShowBuzz via DotWallet to Win DP
Starting from today till July 31st, you can log in to DotWallet to try ShowBuzz and get the opportunity to win a prize of 100 DP.
During the event, sign up and log in to ShowBuzz with your DotWallet account, then you can win a prize of 100 DP by completing any of the following tasks such as posting, reposting, commenting, donating, clapping through ShowBuzz. Each user account is limited to claim the prize once for a day. The number of DP supplied during the event is limited, first come first serve!
Please pay attention to:
Event period: July 29 to July 31.

How to participate: DotWallet-App Center-ShowBuzz

DP rewards will be delivered to your DotWallet account within three working days, please pay attention to check it.

All rights are reserved by DotWalletconcerning this event.
About DP (DotPoints):
DP (DotPoints) reward program was launched by DotWallet for the purpose of motivating and giving back to users. DP can be used in DP programs offered by DotWallet, including DP lottery, quiz, exchange, coupons, and more. In addition, it can also be traded into digital currencies like BSV,BTC,ETH in DotWallet Pro Cards-Market. All rights are reserved by DotWallet in the usage of DP.
DP Trading Path: DotWallet Pro - Cards - Market - DP card - Trade
ShowBuzz officially enters the DotWallet app center,Try now:https://www.dotwallet.cn/en/download
---
■ ■■■■
Collaboration
(WeChat ID:yqw4322)
(Telegram: https://t.me/DotWalletMiemie)
Customer service
(WeChat ID:DotWallet-D)
(Official English Telegram Group: http://t.me/dotwallet)